10 years anniversary of my first E3

10 years ago today I was embarking on a journey to my first E3 conference.

Written in June 1, 2022 - 🕒 18 min. read
I remember the first time I was planning to go to E3 with some friends, back in 2009. It was more like a distant dream, just the idea of going to E3 was already fun enough. Back then I didn't even know/realized that E3 was an event for media press only and that I would never be able to simply buy a ticket and go. Of course, eventually, I was able to go to E3, but how?
I've always been passionate about video games, especially Nintendo games, so when the biggest Brazilian blog about Nintendo in Brazil, Nintendo Blast, was recruiting new editors, I had to apply, and to my surprise, I was accepted.
After joining, I started writing blog posts and making videos for their YouTube channel, and then a couple of years later I get an email from one of the blog managers saying they were looking for people to travel to Los Angeles to cover E3. I was blown away. I pressed the apply button so quickly that I almost broke my mouse.
Of course, since Nintendo Blast was driven by voluntary work, I would have to pay for the trip myself, but they would offer me that no money could buy: a media badge!
First, I had to get a visa to get to the US, which is a quite bureaucratic process, but thankfully my visa was approved, the hotel and tickets were booked and our media badges were issued, and all I had to do was wait till the day of the trip. I was so excited I had trouble sleeping for months.
First time in Los Angeles
Going to E3 had a side effect that I was not expecting: falling in love with Los Angeles. Yeah, I know it's super cliché, but LA is not only the home of E3, but also kind of the home of skateboarding and to a lot of famous skate spots that I have seen on skate videos my whole life, and being able to go to these spots in real life was very emotional, I even bought a Plan B deck while I was there, because why not. Pretty much every corner in downtown LA is a famous skate spot from a 90's skate part.
This was also my first time in the US, so first time experiencing extra-large meals at Mc Donald's, shopping at Target, getting massive receipts from CVS, going to a Game Stop, buying Old Spice products, going to White Castle, and as a Forest Gump fan, finally going to a Bubba Gump restaurant.
We were a group of 7 young video-game enthusiasts about to cover the biggest video-game event in the world, and even though we had lots of things we wanted to do in LA, we had no time to waste as E3 was starting 2 days after we landed.
A little help from the veterans
We were a small team, but luckily we were in the same hotel as some veteran editors from Nintendo World, the official Nintendo magazine in Brazil.
I have been reading Nintendo World since I was 10 years old, and being there with these legends was surreal. They would even pick some of us to write a guest article in the magazine, sadly I was not picked, but just the chance of being picked was already one of the greatest achievements of my life so far.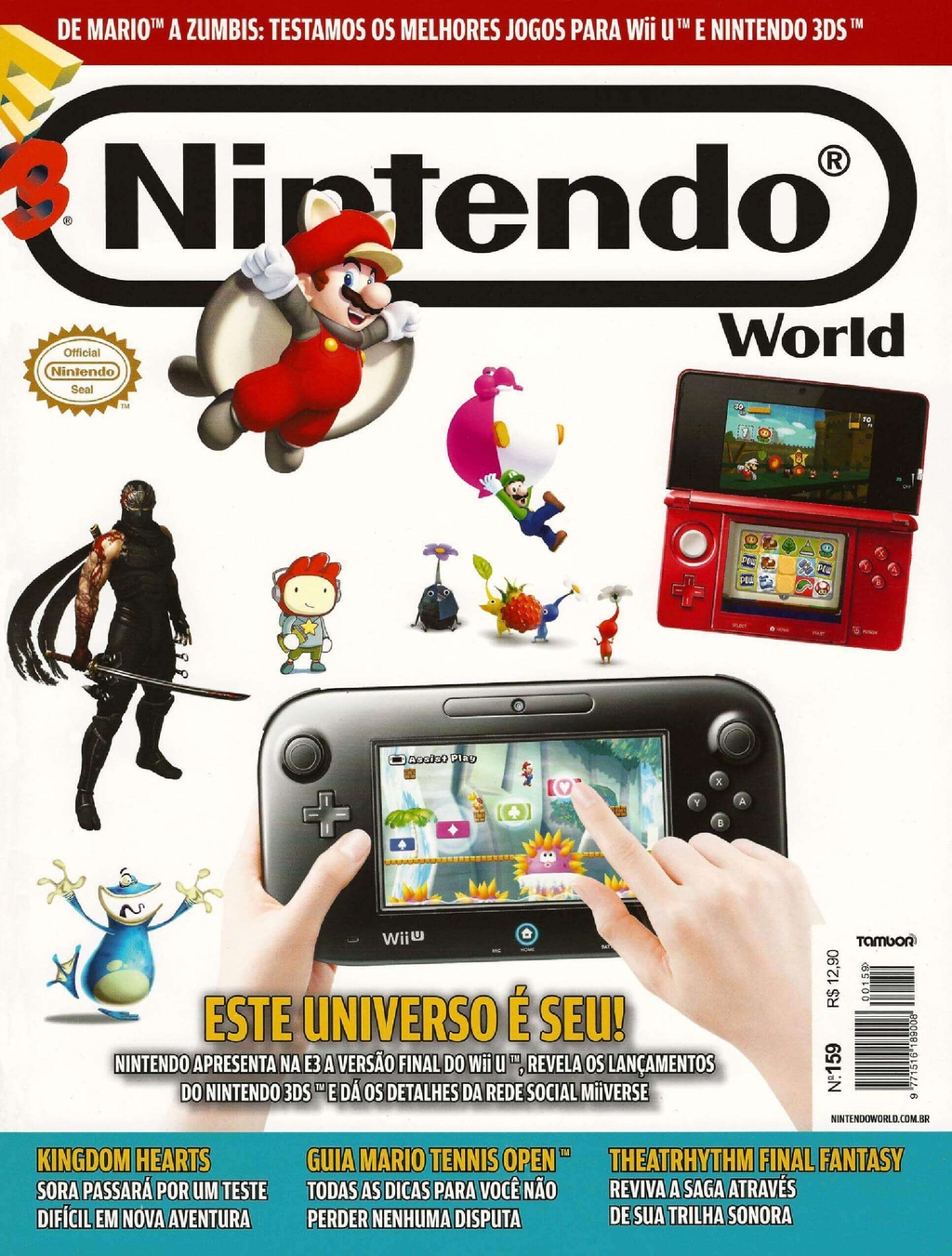 We then had a few rounds of meetings on how to get things done at E3, which ended up being super useful, and I've used them in every other E3 since then.
Wait, when does E3 starts?
Oh boy, the confusion. Every E3 was the same thing, I would see an article saying "E3 starts on this date yada yada" and then a few days earlier, boom Sony/Microsoft/Nintendo conferences, what? Why? And then the following days would be full of gameplay videos and articles about closed-to-public presentations of games, etc.
The thing is, the conferences are not part of E3, not really, well, kind of.
E3 is an event organized by ESA that brings traders and media together to a huge convention center where gaming companies can show their products and new games' releases to the world, and during these days, the whole gaming world has their eyes looking at E3, and because of that, all the major companies also schedule a big press conference a couple of days before E3, so all the traders and media know what to expect from the actual event.
But for all of us at home, all we get is that E3 is starting when the conferences are starting, and it ends after the last conference.
So imagine how confused I was when I was told the Sony conference was many kilometers away from the LA Convention Center. What? I thought all conferences were happening at E3, at the LACC. I know it's silly, but it was shocking, and in the coming years I kept seeing new E3 attendees with the same confusion.
The conferences
To get to the famous E3 conferences, you need to be invited, well at least in the conventional way. Even if you were not invited, many media people would still go to the conference location in hopes some spots would become available, and in every E3 I've been to, I've always able to go to the conferences, and even if I was no able to, the adrenaline of not knowing if I would make it or not, and all the phone calls and reaching out to other PR people trying to get in was worth the adventure. Sadly I didn't know all of that in my first E3, so I didn't even try, and it was the last year that Nintendo had a conventional E3 conference 😢.
Usually, the conferences were set into specific times and places so people in LA could move from one conference to the other and get there on time. One of the conferences' days would start with Microsoft early in the morning, then Ubisoft, then a break for lunch, and at last, Sony. There was even special busses taking people from one conference to the other, for free. I don't even know where these buses were from, but they were super helpful.
Almost every conference would give some sort of swag to the attendees, like pins, t-shirts, action figures, etc. Many of these items could be found for hundreds of dollars on eBay later the same day. I of course, still have all of them and still use at least one E3 t-shirt every week I think.
The locations of the conferences were always in famous places in LA, like the Bethesda conferences from 2015 that were in the same location as the Oscars, the Dolby Theater on Hollywood Blvd. Sony and Microsoft were always in the same location, the LA Memorial Sports Arena and Galen Center respectively.
The Event
E3 usually happens from Tuesday till Thursday, lasting 3 days in total, and let me tell you, if you want to see everything, 3 days is not enough. Being there is great, but we miss a lot of stuff. The LA Convention Center is huge, and you will spend half of your time walking from one booth to another.
During the event coverage, we split our team into smaller teams, and we all had booked slots for hands-on, interviews and demo presentations with the various publishers, so our goal was to be there on time to cover it. Booking things in advance is a great way to skip the lines, which sometimes can last for hours, and go straight to the hands-on experience, and as I mentioned before, 3 days is not enough to see everything, so "wasting" time on lines can cost you not only your precious time but also prevent you to play other games.
In my first year, I was a bit lost and didn't know exactly what do to, but still, I played a lot of WiiU and PS3 games, including ZombiU, Nintendo Land, LittleBigPlanet Karting, and PlayStation All-Stars Battle Royale, just to mention some. My favorite game from that year was not playable: Dead Space 3. That's when I got into Dead Space and got a nice beenie which I still have it.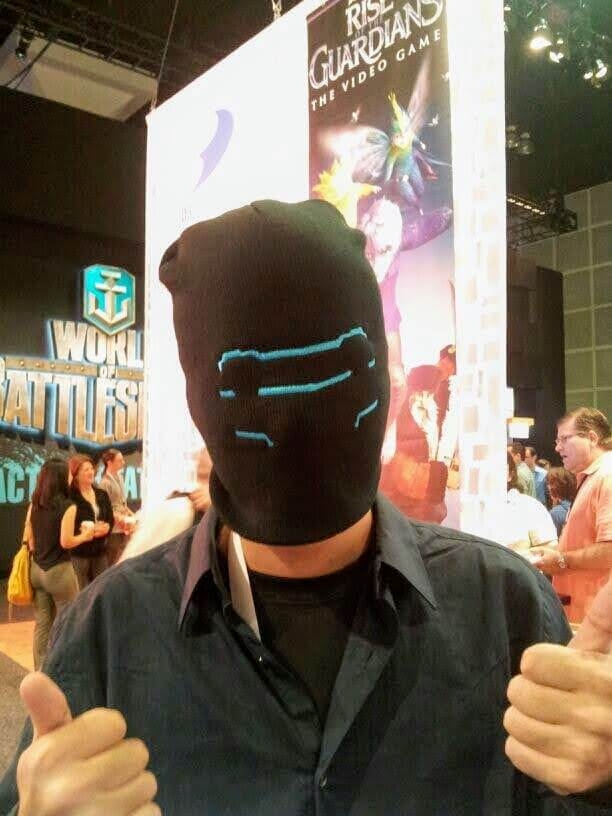 The LA Convention Center is massive, and it has two main areas where you can find the various booths from various companies, and a few other meetings rooms where usually companies will have their sort of VIP areas with closed-presentations and demos.
The two main areas are connected by a massive open area that is open to the public and also full of stuff to do, with even some exclusive games to play. Walking from one main area to the other can take around 10 minutes, so it was important to try to book appointments that were close to each other, so I didn't get stuck in the middle of the open area.
There is also a special room for media with computers with high-speed internet, so journalists could edit their articles and videos and post all the news to the world as soon as possible. There is also a special "chill" room, where we could, well, chill, and also get free lunch around noon. Yummy.
During our "free" time, we could scatter around and find interesting things to cover. I have to admit I spend most of my free time at Nintendo's booth, trying to play as many games as I can, and collect as many swags as possible. Oh yeah, one of the other awesome things about E3 is getting lots of awesome free stuff, like keychains, t-shirts, action figures, etc.
The swags
One of the most epic things about E3 is the swags, not only because free stuff is awesome, but because just like getting into the conferences, trying to get swags is a very fun and exciting experience by itself.
Each company booth has its swags and ways to get them, and it changes every year. On my first E3, at the Nintendo booth, for each mini-game we played on Nintendo Land, we would get a pin for that game and the goal was to collect them all, which I did of course.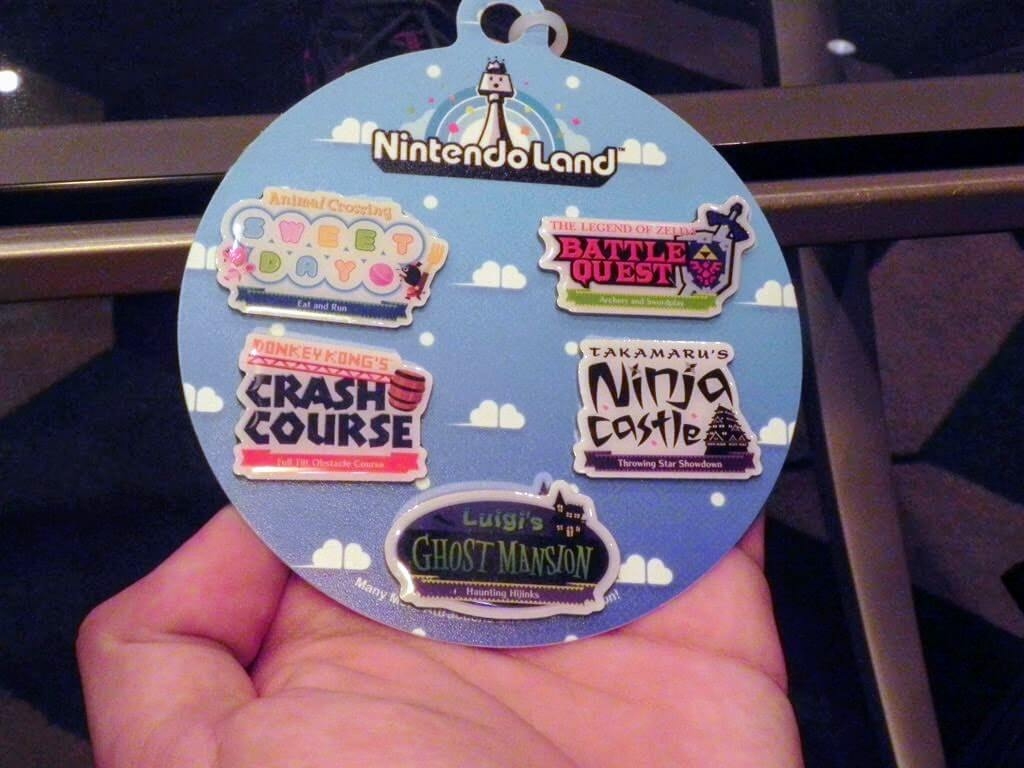 Some swags you would have to play a game versus other attendants and win to get it, like the 2014 Smash shirt - I suck at Smash, but thankfully my friend Danilo from Hyrule Legends got me one. For some swags, all you had to do was ask and you would get them, but it was also possible that they would "sell out" very quickly, and we would have to wait for the next day to get them. Always worth it, though.
For a collector like me, swags are always welcome, but the best swags were the ones we could wear, as I mentioned before, pretty much every week I wear a different t-shirt that I got for free on E3. My favorite one is probably the Lego Dimensions t-shirt from 2015, which was not a swag, but it was the shirt that the booth staff was wearing, and I somehow was able to convince them to give me one. Crazy.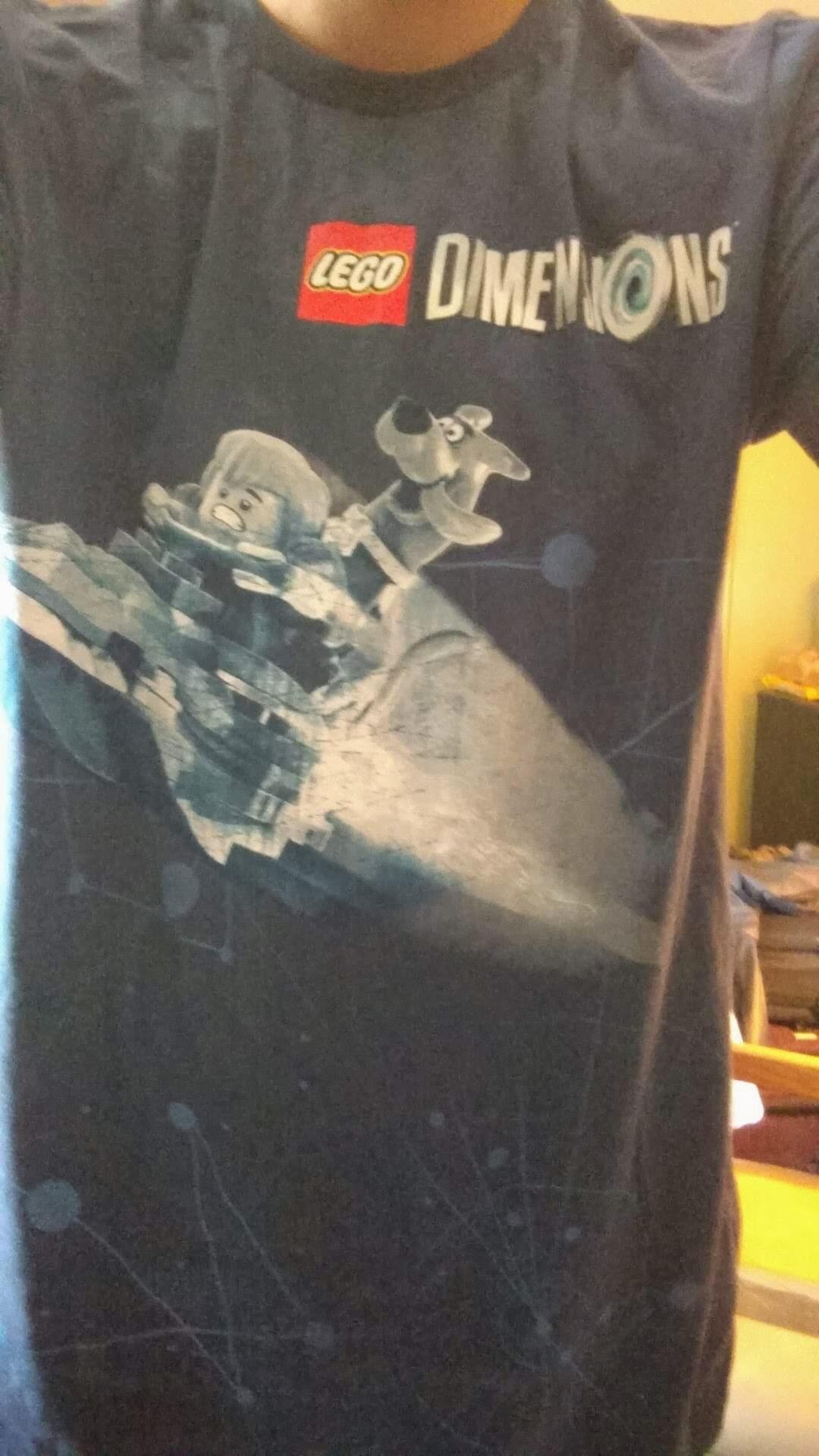 Swags like this t-shirt are called ultimate swags, at least that's how I call them, which are items that are not really available as swag, but somehow you manage to get them, like the water bottle for the booth staff, which I tried to get it at E3 2012 but was not able to. But that's ok because the next year I was actually able to persuade them to give me a water bottle, and I got one.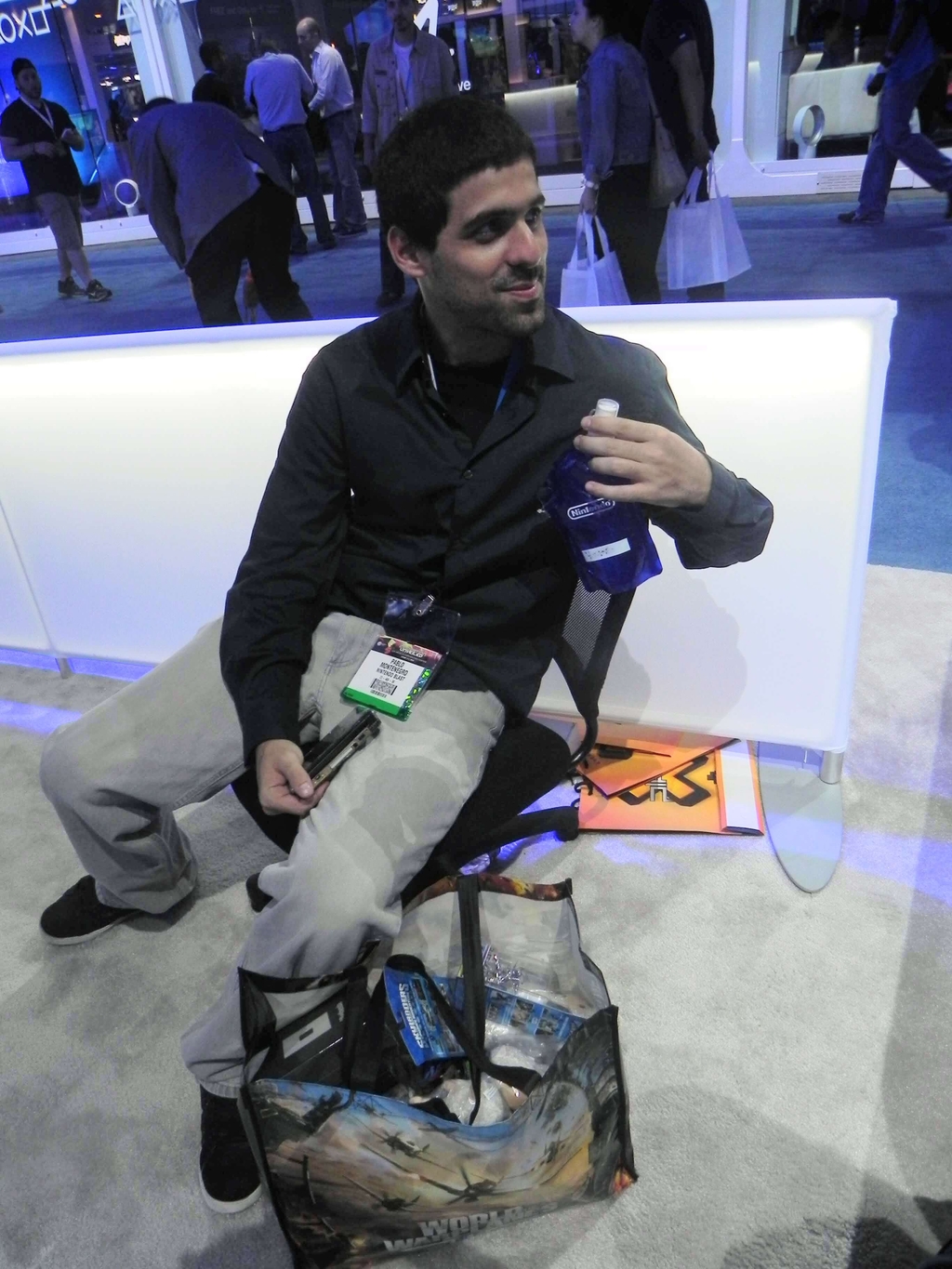 At the end of every E3 day, my friends and I would get together to have a nice dinner and talk about all the swags we collected, and how to get them. Of course, we would also talk about all the games we played, and how was the day in general for us.
I would usually leave my last day almost free of appointments, so I could walk around and try to get all swags I missed, and replay the games I liked the most. Then after the last day, we would gather all our swags and game-related purchases and put them together for an epic picture.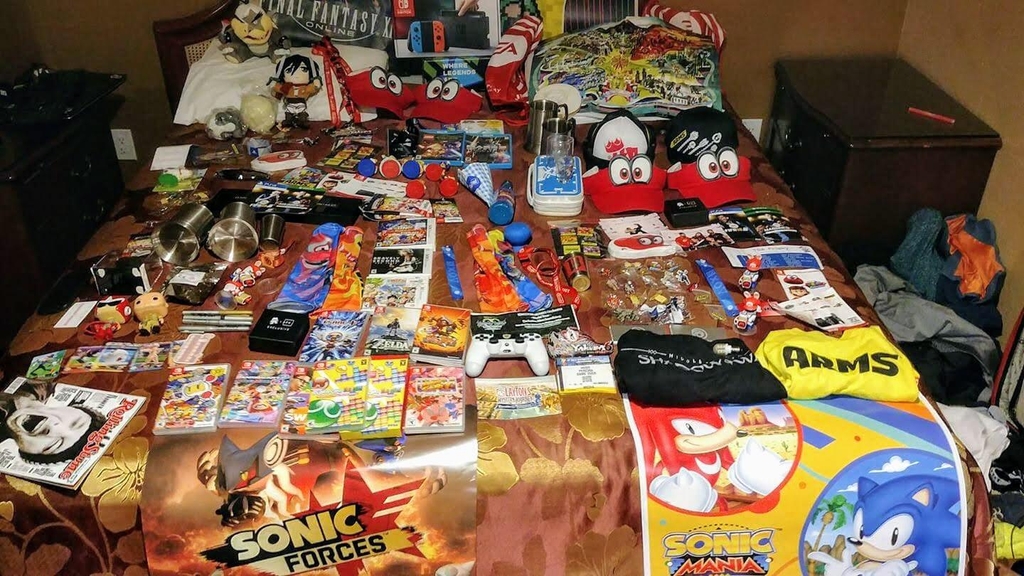 The food
There were many ways you could get food at E3, if you were media, you could get a very decent lunch for free at the press room, otherwise, you could pay for very overpriced food at the various cafeterias available in the convention center.
If I was lucky enough, I didn't even have to stop to eat, because some companies' booths had some snacks for you to eat while playing games, and that was my main meal during E3 - snacks and games. No, really, like why would I stop to eat if I could just power through and play games at the biggest gaming convention in the world?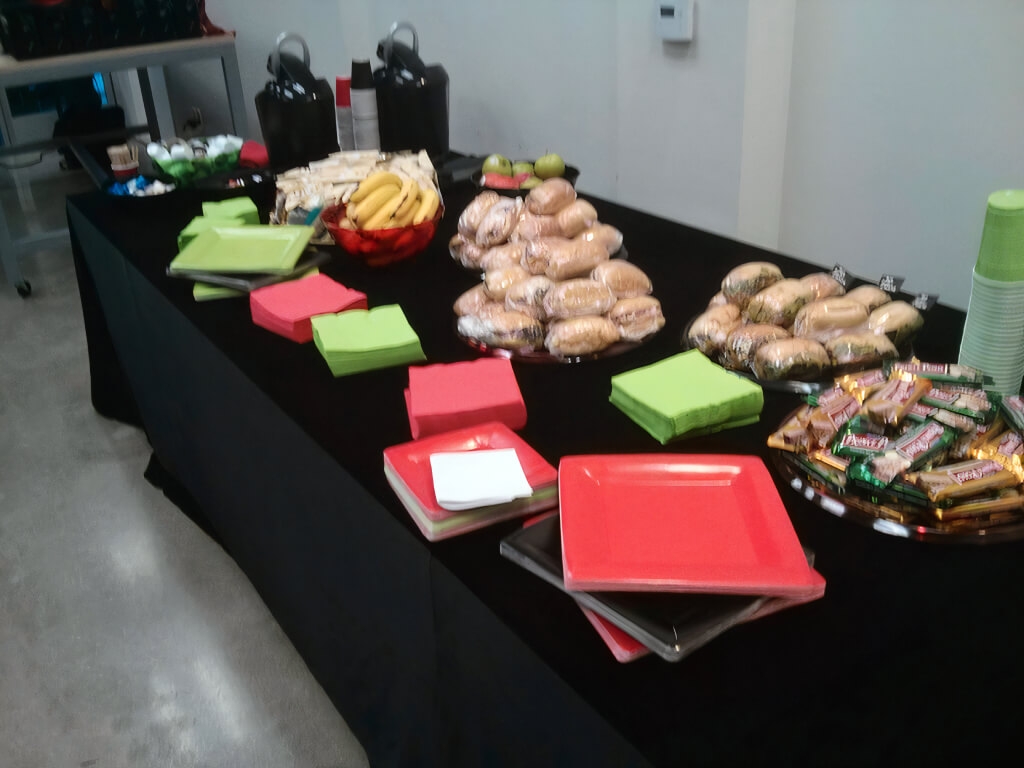 Meeting your heroes
This is possibly one of the best things about E3, if you're lucky enough, you might be able to meet the people that make the games you love.
There are many ways you can get to meet them, if you are media, for example, you might be able to book an interview with them or an assisted hands-on with one of the developers.
Another way to meet them is by simply walking around the convention and finding them by pure coincidence, hahaha. That's how I met Hideo Kojima, for example, and there was another time when I bumped into Shigeru Miyamoto returning from the toilet and snagged an autograph 😅 sorry for that, Miyamoto.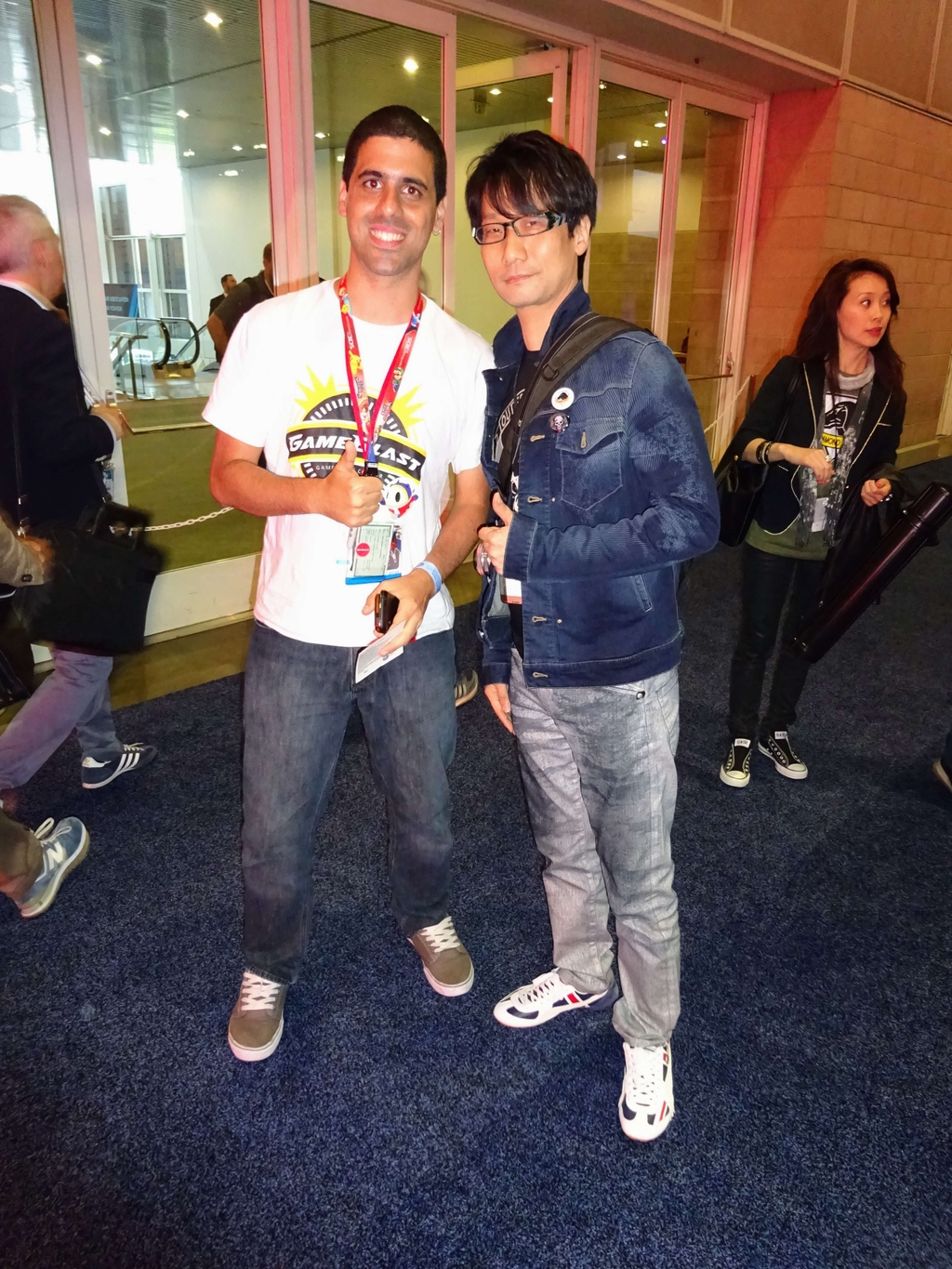 One unconventional way to meet them is by being at the Convention Center entrance early in the morning, and just wait, eventually, everyone will pass by there to go into the event, including the important people. Of course, most of the time they would pass by super fast, probably because of the busy schedule they have, and also with a few security guards.
But sometimes they were not so busy and had the time to give some love to us, mere mortals. That's how I got to meet Miyamoto and got my 3DS Zelda Edition signed by him, which is now my greatest collection item.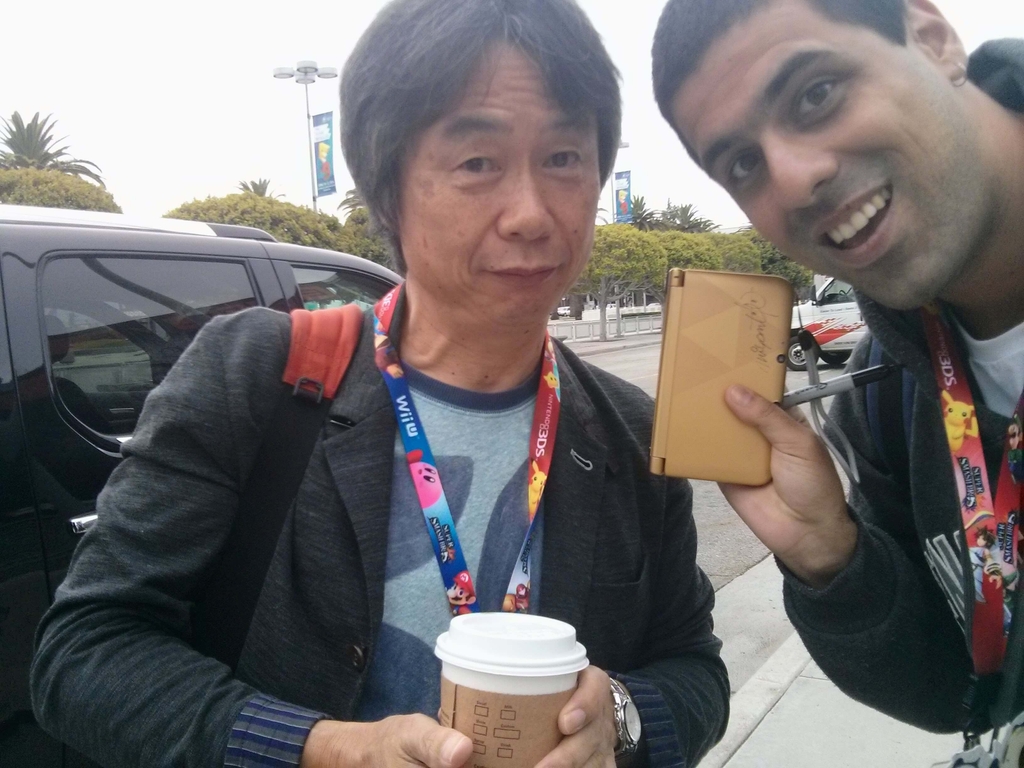 After that day, I told a few friends what I had done to get an autograph from him, and they did the same thing the following days, and they all got autographs too. Nice.
Of course, they also told their friends about it and after a few years, there was a huge group of Brazilians, that didn't even know each other, all waiting for their heroes to go to the event, so they could get a photo and an autograph.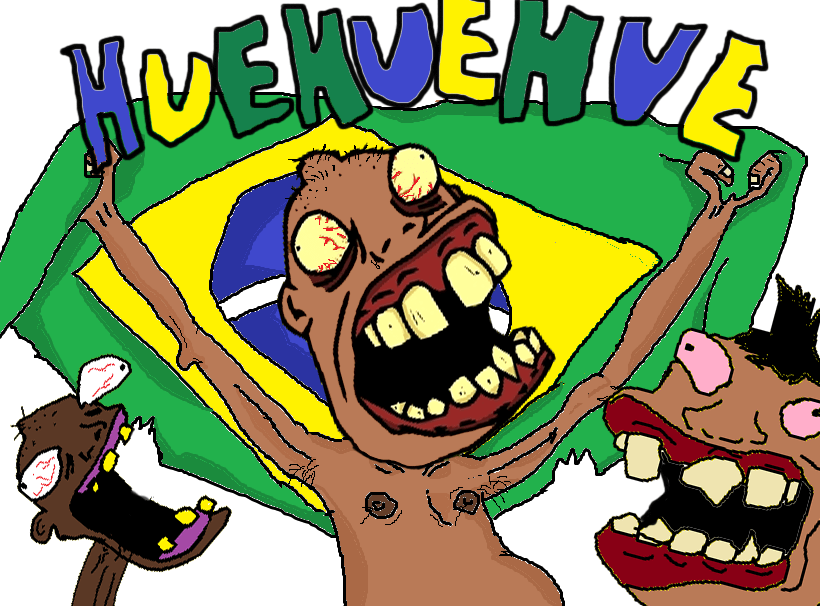 After E3 became open to the public, all famous people and staff have a different place to enter the event, so for better or worse, there is no way to use this "trick" anymore.
After parties
I was waking up at 6:00 AM and going to the convention center, getting there soon to avoid big queues and play some games, and then keep doing that until around 6:00 PM when E3 was over for that day, so I was already pretty tired, then until I met all my friends, gathered all my gear, etc., it would already be around 8:00 PM, and I was ready to go to bed, unless of course there was a party, and boy, there was always a party.
Some of these parties were exclusive to media people, some others were open to any game enthusiast around LA to join, some were paid, some were free, some had free food and booze, and some had swags, there was a party type for everyone, and I was always happy to join.
The best part of these parties was meeting new people and hanging out with your friends, talking about the day, and getting hyped about all the new things coming on that year.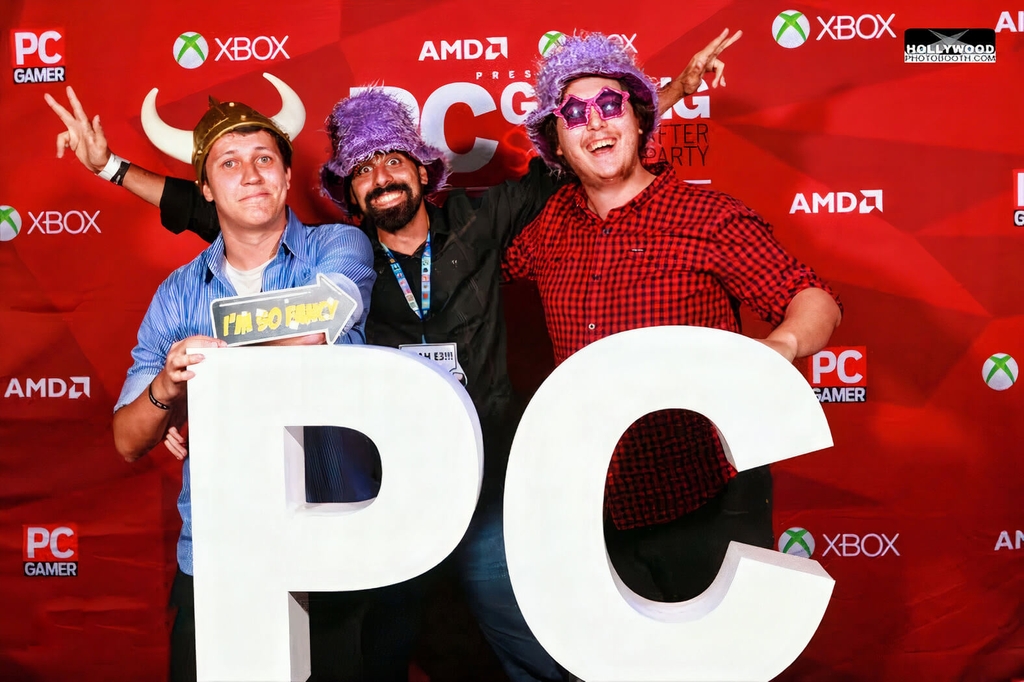 Post E3
In my first E3, we almost had no time to explore all the other things Los Angeles had to offer, like walking around Santa Monica pier, visiting retro gaming stores like Game Dude, visiting Universal Studios, the Hollywood Walk of Fame, the Hollywood Sign, etc. We stayed for just a week there, enough time to attend the conferences, the main event and one extra day for shopping, but that was it.
After 2012, on all my other trips to E3, I stayed at least two weeks there. plenty of time to attend E3 and still explore the other things LA has to offer.
So every year, after E3 was over, my friends and I still had a whole week to do things, go after game deals, eat as much junk food as we can, and do all the other touristy things. One time we even went to Las Vegas for a weekend, it was awesome!
Going back home
That was always the saddest moment of the trip, especially in my first year, when I was not only saying goodbye to E3 but also saying goodbye to my first trip to LA, which I had the time of my life.
Returning home was always a bit sad, but at least I knew I would be back in LA again for the next year, well, at least that's what I thought until 2019 😅.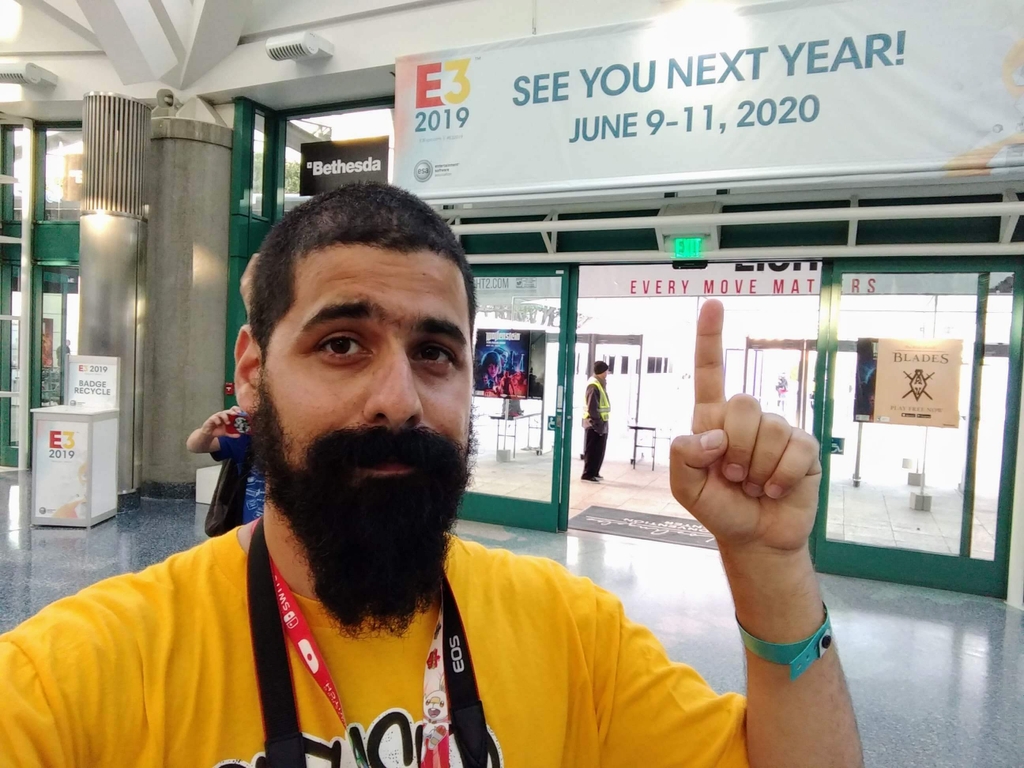 Is E3 still relevant?
Well, this is a bit of a controversial question, but as you can imagine, I think we need E3 to be back, let me tell you why.
The truth is that E3 was already slowly dying, and the pandemic was simply the final blow that killed the event, the event would not live being just a media event, it no longer made sense to news companies to spend thousands of dollars sending journalists to Los Angeles to cover an event where everything could easily be shown on YouTube these days.
When E3 finally opened to the public in 2017, the event was not prepared for such an audience and what happened were huge lines - about 5 hours of queue to watch the presentation of Cyberpunk 2077, in addition to giant lines just to enter the event. Tough!
Also, with the big data leak from E3 2019, ESA was not doing very well, even before E3 2020 was canceled, Geoff Keighley had already said that he would not attend E3 that year.
With all that said, it might seem like there's no point in having E3 anymore, as conferences can all be online, and even companies can make game demos available for everyone to play, right? Yes, but there is one thing that cannot be fully adapted to the digital world: The hype.
Because E3 is a great tool to create buzz and increase the hype of game releases, as all gaming enthusiasts are attentive and keeping an eye on everything that happens at E3, it's practically a week when all our gamers' dreams come true, it is a period where we can look forward to what is about to come in the next year, it's like Christmas, but better.
Without E3, we don't know what to expect from the game industry in the year, that's why even without E3, most companies still used the E3 time to announce their new games in 2020, but even so, without the big face-to-face event, it's not the same thing.
For example, why are there still movie trailers at Comic-Con? Why do they show trailers at Comic Con weeks before they release on YouTube? Because this makes us all look forward to finally seeing these trailers, by knowing that others have already seen it, and reading reactions and comments about it, so with E3 is the same thing, but for games.
So much so that I went to Gamescom in 2019, and it was an amazing event, but practically all the games that were there had already been announced and the closed presentations were the same as at E3, so despite being an event up to 3 times bigger than E3, it doesn't bring the same hype.
What now?
Well, it is still open if E3 2023 is happening or not, and apparently, we're in the final months of the pandemic (hopefully), so everything points to a big chance for ESA to not screw things and bring E3 back in next year, and if that happens you can count me in.
For me, E3 is not only a great chance to play super awesome games and meet new people, but also a way to have an awesome trip with my friends, which is a hard thing to do when most of us have a job, live in different countries, etc.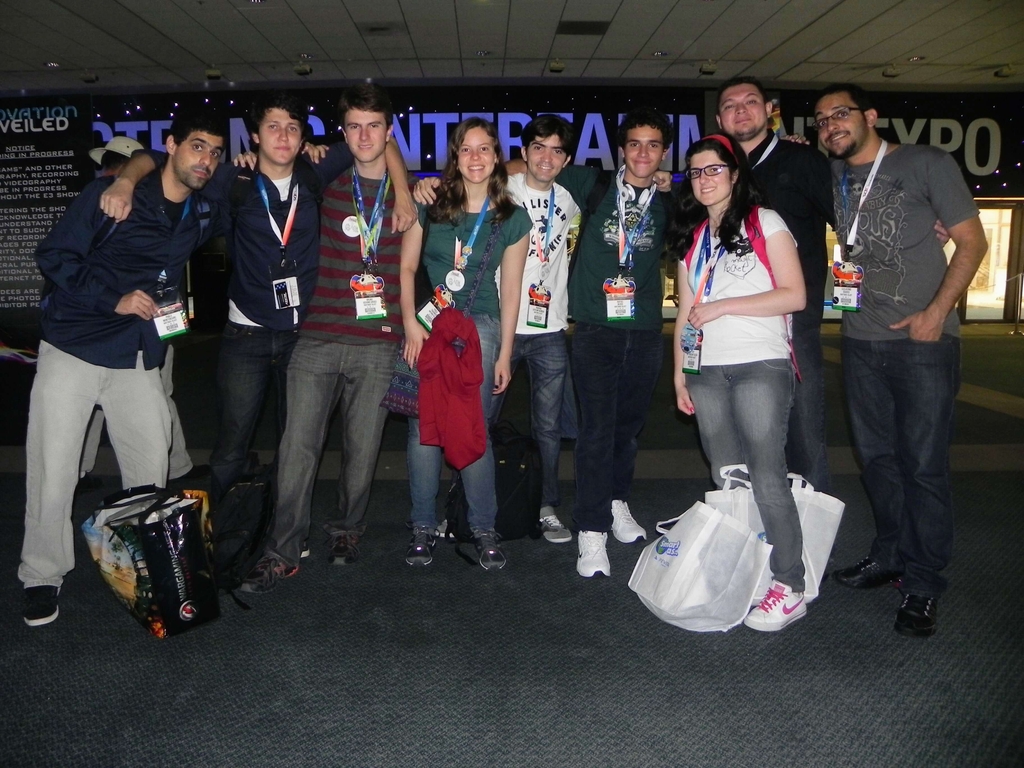 Let's hope for an E3 come back in 2023 and see you there!
Tags: