Creating my dream Skyward Sword HD Switch accessories

Written in July 14, 2021 - 🕒 3 min. read
This year marks the 35th anniversary of The Legend of Zelda (and Metroid) and Nintendo tends to celebrate its franchises anniversary every 5 years.
On its 30th anniversary, we got Twilight Princess HD for the Wii U (and nothing for Metroid), and this year we're getting Skyward Sword HD (and Metroid Dread 😁), a game that started many mechanics that we see on Breath of the wild, like paragliding, stamina meter and breakable weapons.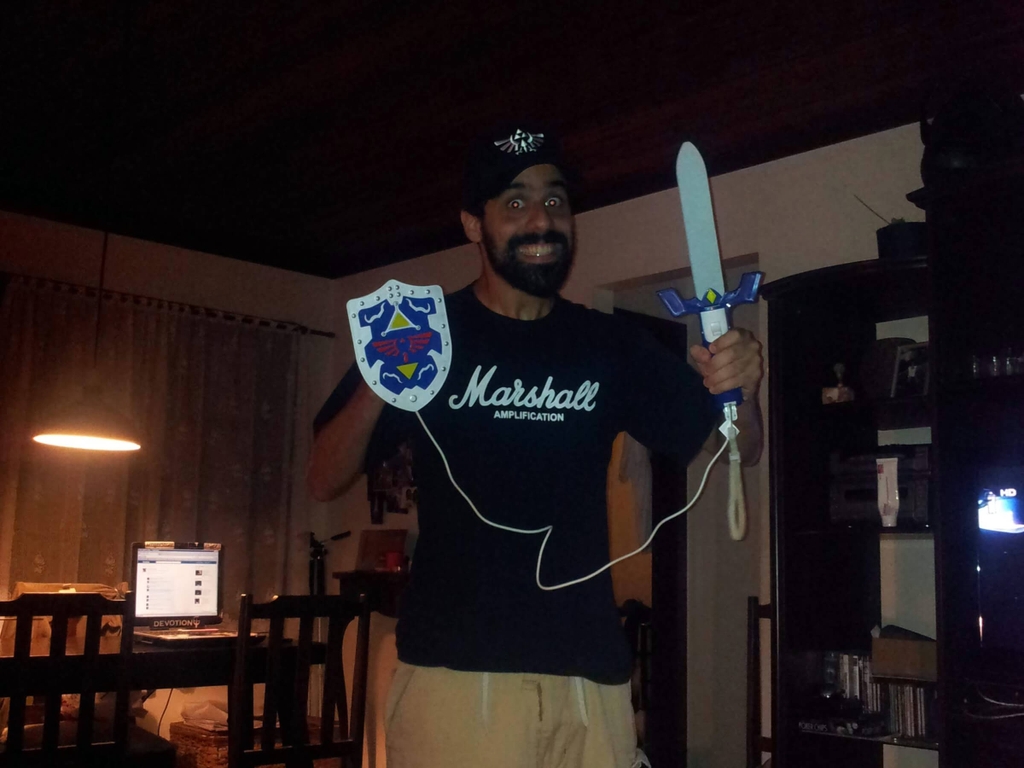 This is a picture of me 10 years ago, which looks like I'm on cocaine or something, but I was just super excited to play Skyward Sword with my Wii accessories. Those were good days.
When the game first came out in 2011 I was so excited to get it that I bought a Wii Accessories Kit from Italy to play it (see the photo below), and with that in mind, I can't imagine a different way to play Skyward Sword other than with my Master Sword and Hylian Shield accessories, so that's why I decided to make one for the Nintendo Switch.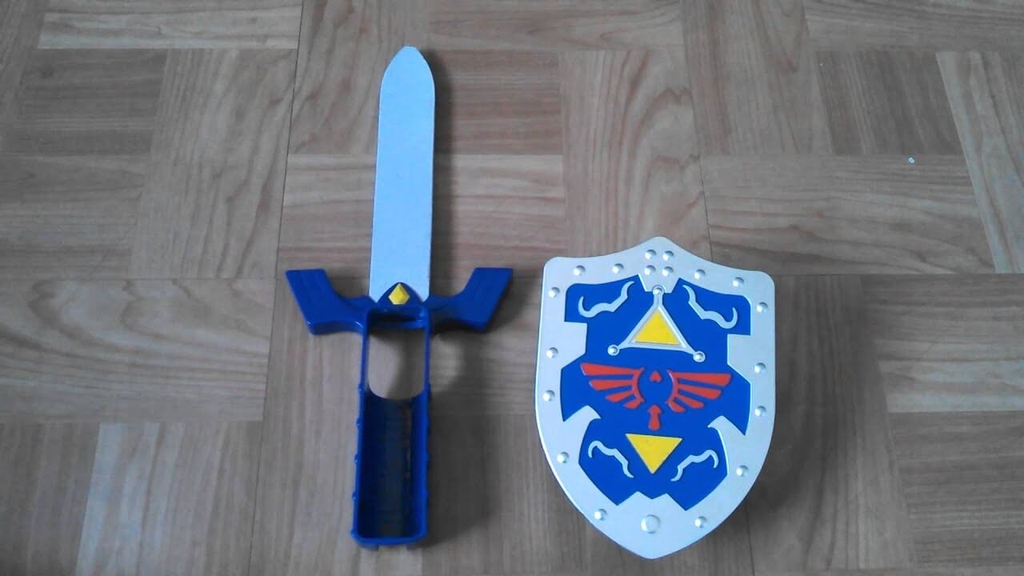 The Idea
Since Skyward Sword HD is coming out this week, I decided to create a similar accessory for the Nintendo Switch, so I went on Thingiverse to see if anyone has already done it, and to my surprise, I didn't find anything, but I found these two models from Wind Waker by ZoltanKi, and even though they're not from Skyward Sword, I think they would look perfect for what I'm looking for, a cartoonish styled Master Sword and Hylian Shield.
Another great thing is that those models are separated by parts, so I can get different colored PLA to print them. Awesome.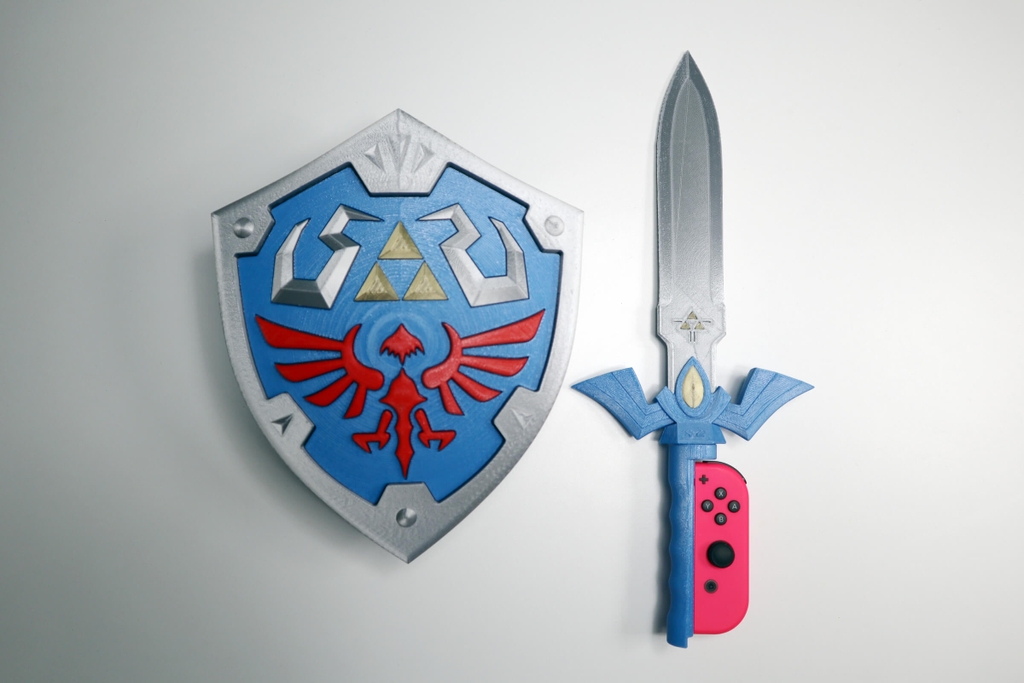 The Problem
Although those models look incredible, they're not an accessory for the Nintendo Switch, so some 3D modeling will be required, and the problem is that I have zero 3D design skills, so I hired someone on Fiverr to do it for me, and boy I'm happy with the results.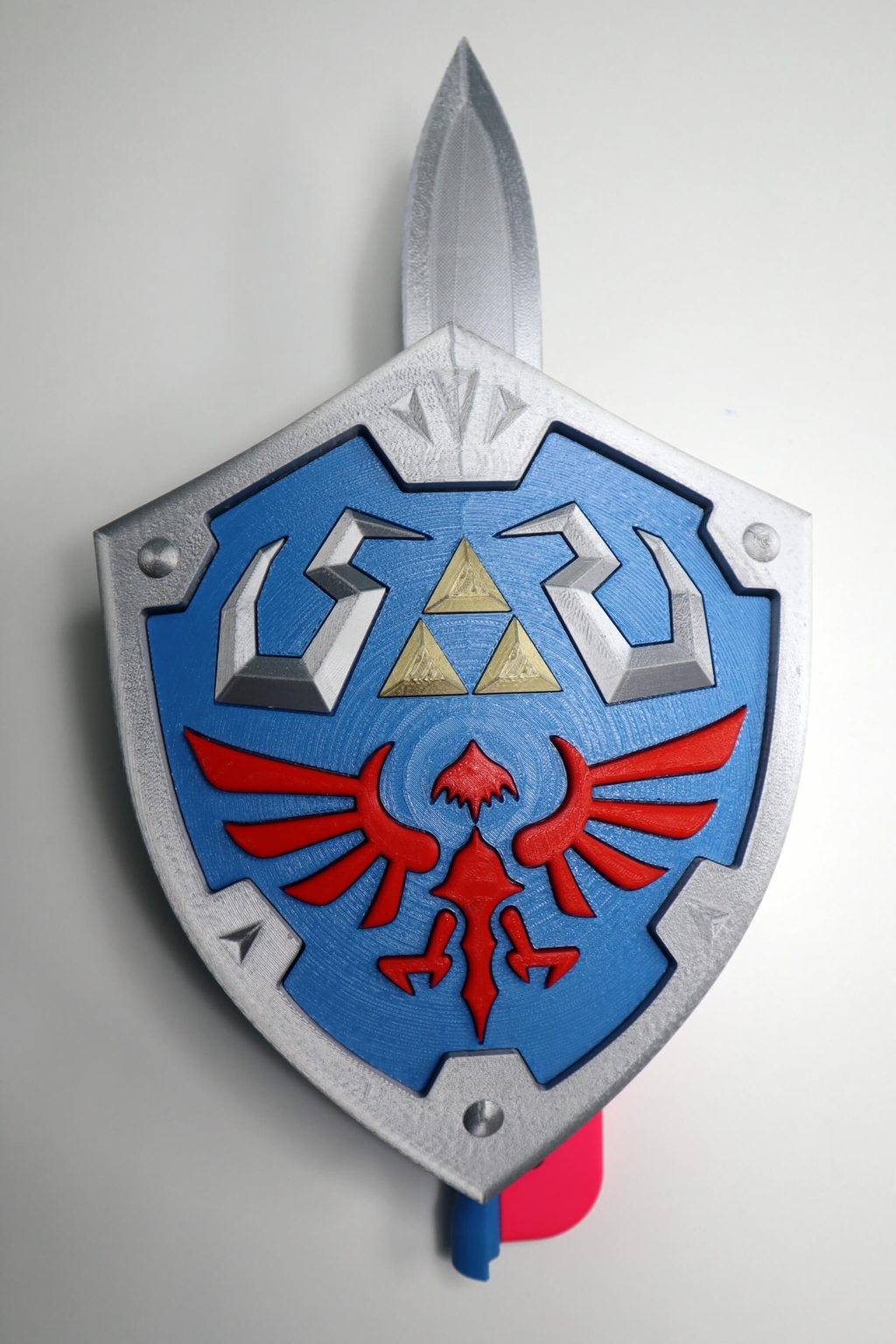 How to print
I've used my Flsun QQ S Pro to print these models, using the Cura slicer with a 0.6mm nozzle. But of course, you can probably print those with all types of printers or even use one of the various online 3D printing services available, like shapeways.
I advise you to use different colored PLA for maximum awesomeness, but you can also print in one color and then paint it (or not). There are 20 files in total, and some of them you'll need to print more than once, like shield_triforce.stl, upper-handle.stl and sword_triforce.stl. The outer-shield.stl and inner-shield.stl are the longest files to printing, taking me around 18 hours each.
To glue everything together I used the Pattex Repair eXtreme, but any gel-like glue will do the job, just try to avoid super-glues because they leave a nasty white blur near the glued parts.
You can get the models on Thingiverse, and of course they're free, as everything is property of Nintendo and I'm only creating this as a fun personal project under the fair use of copyrighted material.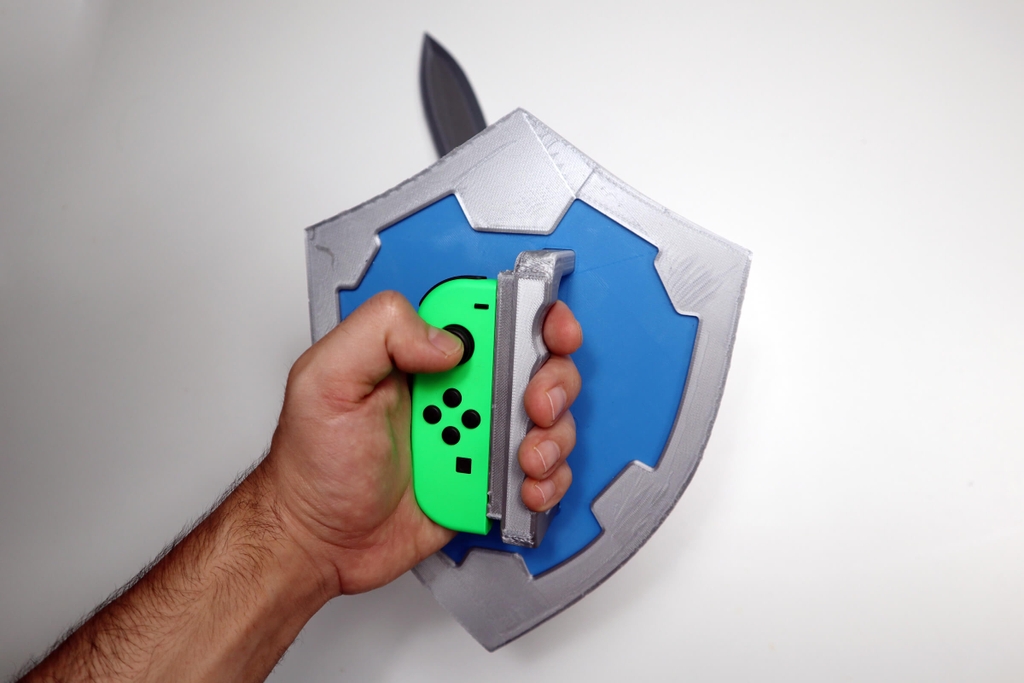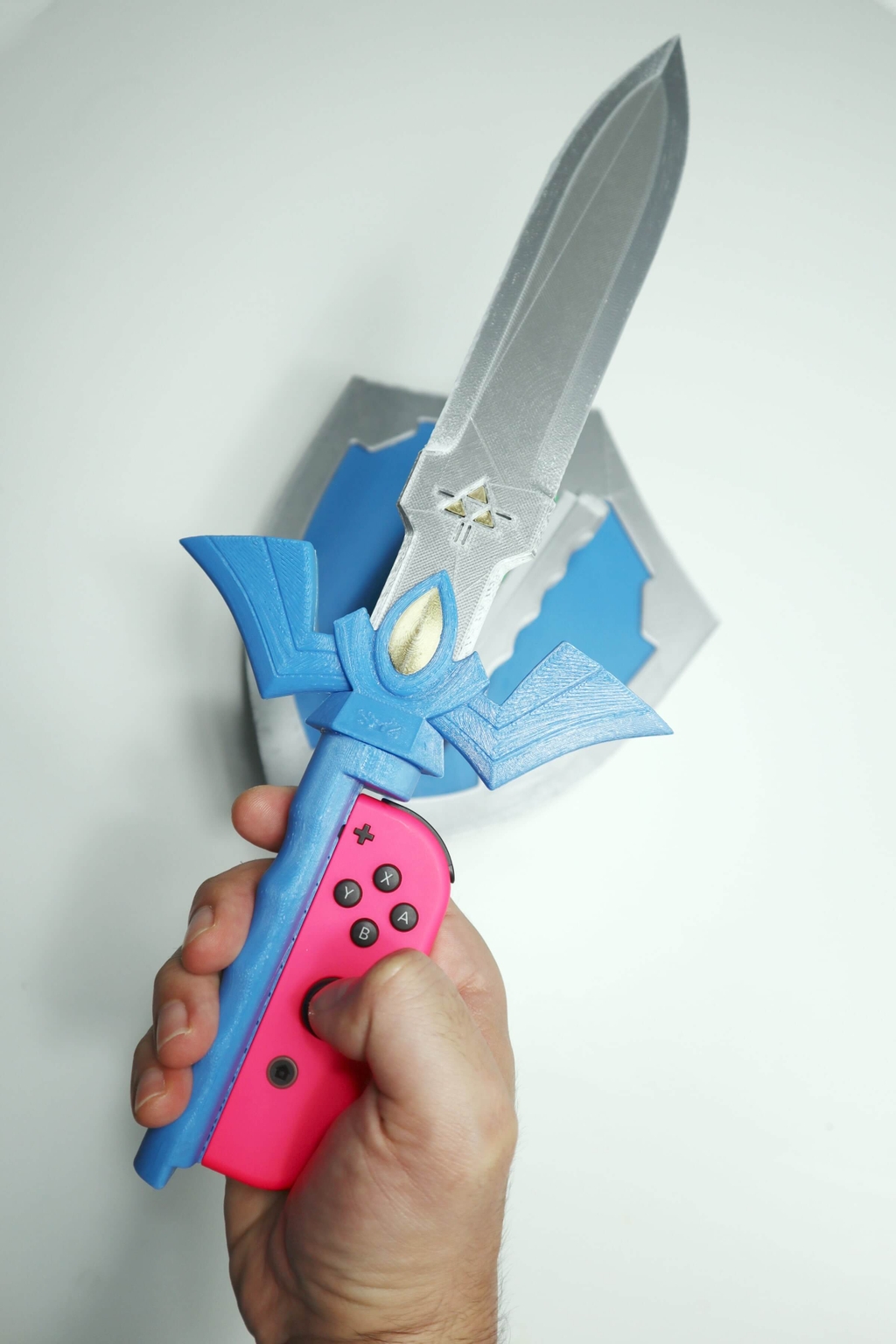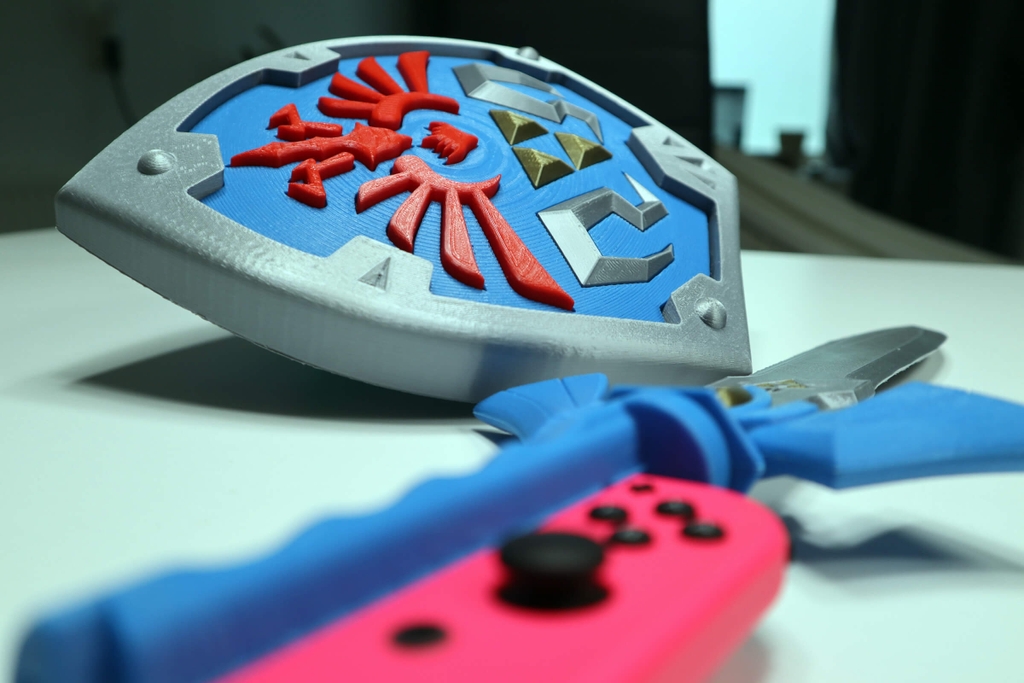 Those are going to look even nicer with the Skyward Sword Joy-Cons. I already booked my day off on Friday to play Skyward Sword, what about you? Excited?
Happy printing and let me know what you think of the models.
Tags:
---
Post a comment
---
Comments
Estuardo on 7/28/21
Hi, the handler2 and 3 are for magnetic stands?
Annonymous on 7/28/21
I love it!!! Please post a Wii version on Thingiverse :) My kids would love it...
Link on 7/17/21
Cheers - This is an awesome project. Definitely will make motion controls feel a lot more fun!